Monthly Archives: March 2014
I actually found the date that I joined Life Time, which was March 11, 2010. So somewhere around that time was when I first met Steve.
Through the course of preparing for figure competitions I met several people. Each person I met who had some experience in the world of bodybuilding or figure competitions always had an opinion about training for a show.  I found that talking to different people only seemed to add more confusion to what I knew and was starting to make me second guess my training.
Figure, like other sports, involves rigorous training. I have the body type that is stubborn and likes to hang on to anything and everything I eat, whereas, some people have been blessed with the natural ability to be lean. This meant that my training involved lifting four days a week and eventually cardio twice a day.
What people don't realize about figure is that each and every training session matters. You can't skip a workout because you don't feel like it or because you have something else going on.  The planning involves calculating things down to the day so that your body "peaks" at the right time.  By peak, I mean that you're lean but not overly vascular and your muscles are full and aesthetically pleasing.
Every single piece of food you put into your body matters and is accounted for. I knew the exactly amount of fats, carbohydrates, protein and water I was consuming. Tracking all of these elements is important to what your "end product" will look like.
I was an athlete in college. There's no doubt that all of your practices are important and your ability to perform is a summation of those efforts. Figure is different because each tiny detail in the whole process is important. If you mess up your diet, it affects your product. If you mess up your training, muscles aren't developed enough or in time. If you don't know how to pose, then you're not showcasing your product at it's best. If you don't have confidence on stage, it's obvious.
My show schedule at the time was going to be to compete in the Gopher State Classic on April 10, 2010 and then the Great North competition on May 15, 2010. This was the first time I had ever done two shows so close together. So not only was I preparing for one, but I had to figure out how to get my body to peak for a second time a month later.
In this panic I called Steve. We ran through what I was currently doing and what I had done for my first show, the Northern States Natural Classic October 17, 2009. I was well aware of his expertise in training and thought it was fascinating. Through the course of his training career Steve had the opportunity to train Kelly Clarkson, the LA Lakers, Kareem Abdul Jabar Jr., actor Peter Gallagher, the US ski team and LA Dodgers alumnus Jim Riggleman. He also trained Hillary Hopkins, a car accident victim whom he helped regain full mobility after doctors told her she'd never walk again. He never used his experience as a way to boast about what he did, but I enjoyed hearing about his training past because I knew he knew what he was doing and that I was working with the best.
Through our conversation Steve told me "stick to what you know" and that I was the one that knew my body the best. What works for one person doesn't necessarily work for the next and not only that, what works the first time around when competing doesn't mean replicating the plan will produce the same result.
Bodybuilders are separated into weight classes and figure competitors are separated by height classes. Each height class is associated with the letters A-F. They also have a novice and three different masters divisions (35+ 40+ and 50+).
I ended up taking second in my class at the Gopher State Classic and I took first in my class at the Great North and won the overall. I was very excited for what Steve and I accomplished and looked forward to training together in the future.
After the Great North I went out to celebrate with my sister and some friends and Steve met us for dinner. I was excited about our shared love for fitness and grew even more curious about where this possible relationship might go.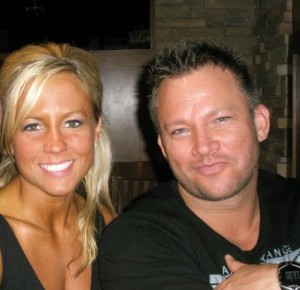 Steve and I  May 15, 2010