Monthly Archives: May 2014
I don't get nervous when it's time to step on stage. I get excited because I know that I did every thing I could to prepare for that moment.
Steve and my sister Mel were a different story.  Mel always came prepared with a small container of what became known as "nervous mints."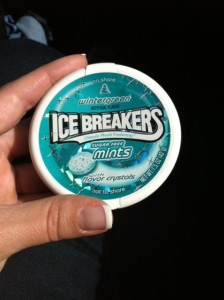 The two of them would sit next to each other during my competition and munch on mints the whole time. They didn't savor the taste or suck on them like you're supposed to, but they'd eat them one after another.
I gave Mel the title of my manger and stylist. She would always help me in my show prep. She used to have to paint my whole body with Pro Tan and a paintbrush.  Thank goodness that didn't last for very long and I figured out a spray tan strategy. Through each competition I got better by  improving my physique, posing, and the glamour side of things.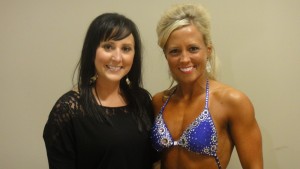 Each competitor has his/her own routine. Some are wild backstage, cracking jokes, listening to music, while others keep to themselves and get "in the zone." I'm the more reserved type. I will talk with other competitors but I stay focused the whole way through. There's no letting up until the day is completely done.
I've always liked motivational quotes, movies, poems etc. I'd write out sayings and hang them up in my room to inspire me and to remind of why I'm doing what I'm doing. One of the sayings I hung in my room before my first competition was this one: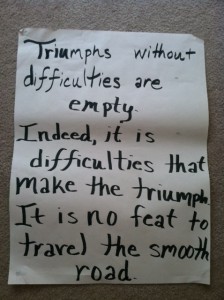 This quote always reminded me that my journey is going to be a challenging one. Our greatest victories don't occur when we choose an easy path, but rather when our journey is full of challenges, obstacles and when the road is less traveled. We don't become stronger by living an easy life, but we need resistance to build our strength.
If you asked any athlete, team or individual who has ever won anything, they don't do what they do for the trophy—some piece of hardware to be taken home that eventually accumulates dust and becomes an artifact.  Instead, they do what they do because of what the hardware symbolizes.
The countless hours of practice, training, sacrifice, frustration, internal battles, and all the effort that is poured into one single event…getting up in times when you feel knocked down and have nothing left to give.
Competing in any fashion is always a choice. You'll never hear me complain about my training or diet, because I recognize that what I'm doing is a choice. Besides, who wants to listen to someone complain anyway?
I felt amazing that day. I just had this feeling that I was going to win. I was confident, but not overly confident because you never truly know until your name is called.
It was then I heard my name.
I secured first place in my height class and later was awarded the 2010 North Star Overall Figure Champion.
For that day, I was the best. I was the big fish in the small pond.
I qualified for NPC (National Physique Committee) Nationals in Atlanta, which would be just two short weeks after the North Star.
It was time to get to work.