Monthly Archives: June 2014
At one point I was the proud owner of a 2008 Lincoln LS; a four-door sedan with a V8 engine that I loved.
This car was pretty, and pretty much a ball of trouble ever since the day I bought it, or rather since my dad helped me buy it.
I was so excited the day I got my Lincoln. I had always received the hand-me-down car from my sister. My first car was a maroon four door Buick Skylark that had what my sister and I called a snowplow grill. It was equipped with everything a teenage girl could want…power locks and a cassette player!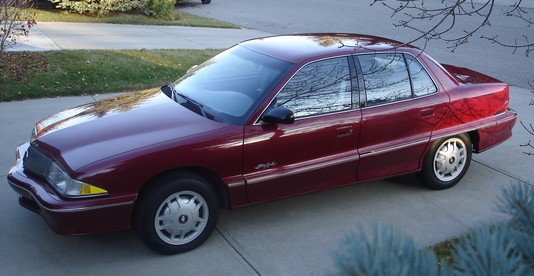 My brother, sister and I would ride to school in that thing, leaving the house with just enough time to get to school tearing down the gravel road with a cloud of dust trailing behind us. Heaven forbid we arrive to school early!
My brother and I would fight over who got to ride shotgun. We'd yell "shotgun" and then race out of the house to claim position in the passenger seat. You had to lock the door from preventing the other sibling from pulling you out of position.
My brother was a pesky little sneak. I'd call shotgun, put my backpack in the front seat, and then realized I forgot something. I knew I had to hustle because little Scruffy was a pest, waiting for his opportunity to pounce on my position as co-pilot.
I'd go back outside only to find him sitting in the front seat, my backpack on the driveway. There he sat with his smug little grin staring back at me. I attempted to open the door, and he beat me to the power lock button. The smug face turned into a rub-it-in your face, tongue out celebration. Jerk!
We had our regular jams we'd listen to on the cassette tape and belt out as we blazed down the gravel road. "Piano Man" by Billy Joel and "Goodbye Earl" by the Dixie Chicks. We still reminisce about it today.
My Skylark was followed up by a teal green, Oldsmobile Cutlass Supreme, then a Lincoln LS. My LS caused my dad and I many headaches with both engine and transmission problems. I figured I was going to give up on this car before it gave up on me. That's for sure.
So one day Steve and I decided it was time to go car shopping. Steve helped me decide what car to buy and what to do with my Lincoln. His idea was to buy my LS from me so he could give it to his parents. A win win for everyone.
It was just like to Steve to think of others before himself, especially his parents. He loved them so much and always wanted to make sure they had what they needed. He actually moved back to Minnesota because his mother was ill. She had/has a terminal heart condition. Being that he was an only child, he uprooted himself from his California lifestyle to come back to Minnesota to take care of her.
So there I was, in the market for a new car. I didn't have enough money to buy a reliable car. I've always liked classy cars, and as you know, with classiness comes and expensive price tag.
I wanted something sharp like my Lincoln, but better. It was then Steve and I went to a local dealership and I purchased a 2008 Infinity G35X. Now that was a hot car!
If you know anything about Steve, he could be a tad impulsive and liked nice things just like me, and I was naïve in my finances at the time. I wanted this specific car even though I had no business "making a purchase" of a car I could not afford.
When I say I could not afford it, I made the decision to drive away with this vehicle after putting ZERO DOLLARS DOWN, which meant my payment was ridiculous! I didn't own my car the lenders owned me!
We spent hours working out a deal and I got the car I wanted.
We then drove away from the dealership feeling great about my new wheels, but I have to admit I was feeling overwhelming feelings of buyer's remorse. What in the world did I just do?
I was dating an older man; surely he knew something about this car buying process that I didn't, didn't he?
Have you ever made a purchase and later had buyer's remorse? If so, what was it and how did you handle the situation?
After returning home from nationals, I felt like I could finally relax. I didn't have to maintain such a rigorous training schedule and diet.  This was also time to reflect on everything. From my training prep, my competitions and life in general.
It was back to normal life. Steve and I still had our regular after school training sessions together. I looked forward to training with him so much. It was the best part of my day.
Besides the fact that he was my boyfriend, I couldn't wait to see my smiley sassy-faced man and to hear what smart aleck remark was going to come out of his mouth.
He always had something witty to say, which only made me more drawn to him. You see, I'm a sassy girl at heart, and our relationship always had this healthy banter.  I wouldn't have it any other way.
It wasn't the type of back and forth rip on each other interaction where you were left feeling irritated. It was flirtatious in nature, not only in our speech, but also in the looks we'd exchange.  Steve would make a comment and the moment I heard it, it was as if some switch was turned on inside of me that caused me to raise my eye-brows and respond with an, oh really, attitude.
It was the same way when we'd work out. Steve knew how to push me to the fringe of my breaking point, but we both knew I'd rise to any challenge he'd send my way.  There would be no way that I'd give him the satisfaction of me giving up. That wasn't going to happen. Each session I felt like I was proving what I was made of to Steve, but in all actuality, I was growing stronger and stronger physically, mentally and spiritually.
He pushed me like no one could and helped me to truly believe I can/could do anything. He reinforced what God says about me, that I can do all things through Christ who gives me strength. Philippians 4:13
Steve may not have known or recognized the depth of impact his training had on me. In my moments of weakness, I was reminded and humbled that when I am weak, Jesus is strong and that I truly need to depend on HIS STRENGTH.
 But he said to me, "My grace is sufficient for you, for my power is made perfect in weakness." Therefore I will boast all the more gladly about my weakness so that Christ's power may rest on me.  2 Corinthians 12:9
So there I was, in a relationship with a man who built me up, who reinforced what God said about me, who cheered me on, comforted me in the hardest moments of my training. He spoke life into me, or as I called him, "my biggest cheerleader." Not only because he was the person in my life that encouraged me the most, but because he was the biggest–my meathead. He even had some cheerleader capabilities physically.
We had just finished our own boxing workout in the MMA (Mixed Martial Arts) room. I was stretching and of course Steve was not. I was making fun of his lack of flexibility. He said "oh yeah?"
It was then that my meathead some how jumped into the air, legs in the straddle position, launching his 225 frame off the ground and touched his toes. He landed and I was speechless. He had me beat. How on earth could he do a Russian jump better than me!
Because he was Steve, that's how.
I'll never forget during the final weeks of show prep, I was at Steve's house and we were just lying on his bed. I was completely exhausted. I was in the most grueling part of my training.  I had to make drastic changes in my training and diet that were draining me on all levels.
I was lying in his arms, and out of nowhere, I started to cry.
"Babe, what's wrong?" he asked.
Sniffling I replied with a nasally, "I don't know."
Tears streamed down my face and Steve looked at me, pulled me in close and chuckled, "oh honey."
"I don't even know why I'm crying, I can't even control it right now," I said with a whimper.
In that moment being in his arms was just the comfort that I needed. I knew that I was secure there and that everything would be okay. I'd make it through this rough patch. I was an emotional wreck who needed the strength and comfort of something bigger than myself and in actuality, something bigger than Steve.
Me, alone…I'm not enough.
When it comes down to it, I've learned that my own strength will never be enough no matter what I'm facing. I can't muscle my way through a physical obstacle without God's strength. I can't grin and bear a tough situation without God's strength. I can't bite my tongue in an argument when all I really want to do is throw a jab, without God's strength.
I know I'm a tough cookie, but my strength is no match for the strength I have in Christ. He gives me power for strength and power for poise.
As I said before, I like training for figure because it challenges me spiritually. I rely on Jesus on my good days and even more so when I feel depleted, tired, worn out, exhausted, discouraged, and every other emotion that comes with being human. My human strength will never be enough and Jesus will be there to bridge that gap if we let HIM. Besides, any strength I have comes from Him to begin with…He's my source.
God has done great things in my life. He's freed me of the bondage of my sin and made me whole from the inside out. He's given me a solid foundation, filled me with love, joy, hope and continued peace.
I have and continue to experience what HIS LOVE and HIS GRACE has done in my life.  I know that I've only life I'm only experienced a sliver of the beautiful things He has planned for me.
Regardless of where you're at in life, what you're doing, your position, status, past, present, or future, God is always trying to do something through you. Or as the saying goes, God can take your mess and turn it into a message.
We have the choice of choosing where we want to dwell, for when we dwell somewhere, we're choosing a place to be, a mindset or an area of focus.
Instead of trying to find fleeting comfort in who we are alone, I challenge you to dwell in the confidence and strength that only He can provide, for HIS STRENGTH is made perfect in YOUR WEAKNESS.
I was 12 days out from stepping on to a national stage in Atlanta. This would be my quickest turnaround from one show to the next, and my biggest event to date.
I had an evening to celebrate the win and then it was back to the drawing board; maintaining my diet and tightening my physique up even more.
Before nationals Steve and I had several conversations about getting a sponsorship for figure. He looked at me with a smile on his face, "what are you talking about, I am your sponsor!"
We both laughed. He had trained me for free, bought our supplements; we cooked together…that pretty much covers all major bases. I ended up not pursuing that route.
This was the first time I'd be competing out of state. Most people check luggage that has shoes, clothes and everything else you need. I had a checked bag that contained all my food portioned out for the final three days, plus ice packs to keep it all cold.
I was excited for this trip. I wasn't going alone. I had my partners in crime, Steve and Mel there for support.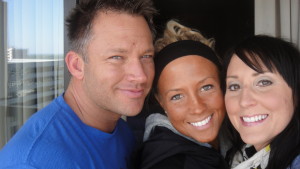 We arrived in Hot-lanta, and checked in to the hotel. It was time for NPC Nationals!
I was in awe! This place was a central hub full of people with orange skin, carrying gallons of water and coolers. I had never seen so many fascinating physiques in one location at a time. I was thrilled to not only experience this culture, but to be one of the athletes competing that weekend.
I had an athlete meeting Thursday night in which we received our athlete gift bags, competitor numbers and heights and weights (for bodybuilders) were checked.I wouldn't be stepping on stage until Saturday morning. I had a whole day of waiting.The three of us attended part of the competitions on Friday night, but we went to bed early because tomorrow would be a big day.
I woke up at 5:00 to start getting ready for the show. My manager, (Mel) always helps me with my hair and make up.
Before I left for nationals, I decided I wanted my hair longer, therefore, I needed extensions in my hair. Well, if I'm going to have extensions, so is my sister! We have this thing where if we're out and about shopping and we find something we think the other sister will like, we buy it. For example, I bought two of the same bracelets one time and when we noticed we both have them on, we say "sister bracelets" in unison. Weird I know. We've bought several other "sister" things, for example we both bought the same pair of sandals, those are our "sister sandals."
My mom is a hair stylist, so we make regular trips with her to get supplies for her salon. I was on the hunt for extensions and I found exactly what I wanted. My sister was spontaneously in the market for extensions that day as well.
Introducing, "Jessica." A clip in extension helmet-type hairpiece that gives you instant length and body, so you can enjoy long healthy locks, made by Jessica Simpson.
I found the perfect blonde one, and Mel found one that was black and we made the sister purchase. These two salt and pepper hair pieces became know as "Jessica." We both tested out these hairpieces before we went to Atlanta, making sure we had our hairstyles down. They worked best when you wore your hair down so you wouldn't have to worry about the clips showing.We'd be getting ready to go somewhere and I'd ask her, are you wearing "Jessica?" It became our little joke, and no one knew what we were talking about.
Mel proceeded to help me do my hair, clipping in my Jessica, and then I helped her put in her Jessica. I put my suit on, did my makeup and I was ready to rock the stage.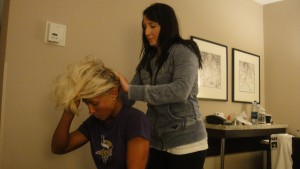 I hugged them both, and then disappeared through the "athlete only" zone. I thought I was prepared for nationals, but you wouldn't believe what some of the other competitors bring with them.Suitcases stocked full of food, beauty supplies, pins, makeup, full- length mirrors, extra heels, you name it, they had it all. I saw different athletes with their sweatsuits on repping their team apparel. I wasn't part of a team, I was my team.
This was my first time competing at this level. In the Minnesota competitions I've been in, there are usually 8-10 competitors in any given height class. At nationals, there were 40 women in my class D category alone.
The goal when you step on stage is to be moved closer to the center of the stage. The closer to the center you are, the better your chance is for making callbacks. They take the best competitors within a specific height class and then have those competitors step out together and go through the poses again to narrow down the number of competitors and to determine the overall winner of that height class.
I was not one of the competitors called back. I really had no idea what to expect. I don't know how they even begin to narrow things down with that many physiques to evaluate. I'd be lying if I didn't say I was bummed about it. I had put in SO MANY HOURS of training and dedicated my time to this particular day. In the end, I know that I brought the best physique I ever had to nationals that day and I"m very thankful for that.
I was pleased with how my body peaked for nationals and I'm thankful for the experience I gained through my first taste of the big stage.
Mel, Steve and I celebrated and went out for dinner at a place similar to Fogo De Chao. I sampled almost every type of meat they offered and they use the same green means go, red means stop cards at our table. We were stuffed, but happy to celebrate after long weekend.