Monthly Archives: February 2015
When it comes to love and relationships, we are all affected by our past. Our experiences intentionally and unintentionally set the scene for our futures.
We naturally bring our own preconceived ideas, attitudes, and learned behaviors to the table, right or wrong, and expect to have some degree of unity with our significant other. It's no wonder relationships struggle when we have unrealistic expectations of one another and fail to acknowledge each other's fundamental needs.
As an athlete the importance of fundamentals were always stressed to my team by my coaches, regardless of the playing level I was at in my career. I can remember the early days of learning how to play basketball and we'd practice dribbling. Every single practice we'd line up on the baseline and my coach would say, "dribble down with your right hand and back with your left." I'd take off sprinting as fast as I could, dribbling down the court.
The whole switching to my non-dominant hand thing made me squeamish. I thought, CRAP! I don't ' like dribbling with my left hand!
I'm a right-handed person and if I had it my way back then, I'd choose to dribble with only my right hand. Why? Because dribbling with my left hand was uncomfortable. I lacked the confidence and skill to dribble with my left hand without looking at the ball and of course I wanted to be the first one to the opposite end of the court. I had to win and I didn't want any of my weaknesses exposed.
Of course the lesson in this extends beyond elementary basketball. To some degree, you may have your own areas in your life in which you must win and you fear being exposed.
We all have our preferred way of doing things.  Perhaps you're particular about how your laundry is done, or how the dishes are loaded into the dishwasher, or what car you drive.  I'm willing to bet your preferred way translates into your relationships too. We all have our opinions of how things should be done and what our relationship should look like. Deep inside we want to be right–aka we want to win, and admitting when we're wrong is hard, because we think admitting a fault means we are weak and it leaves us too open for our liking–exposure.
Hopefully by now you've learned in your life that it's not all about you. There has to be give and take, and a whole lot of compromise.
Just like in sports, you can't just do things your preferred way because it's what you know. Your way may not be the best and ultimately your game— or relationship can sufferer because of it.
Steve took the lead and signed us up for our pre-marriage counseling, which consisted of four days of watching the DVD "Love and Respect" by: Dr. Emerson Eggerichs followed by rich group discussions. There were at least eight other couples in our session. Some older than us, some younger than us, and some who by first impression alone, seemed like the most unlikely pairing. Clearly I didn't know those people just yet, but man, I wanted to know their stories!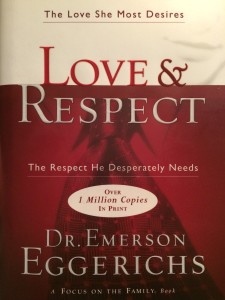 We had the opportunity to dive into the ins and outs of marriage with couples who had been married for years. I was excited because I couldn't wait to hear what these married vets had to say.
We also had to complete a detailed survey before our counseling started that inquired about our beliefs, finances, family planning, and careers, to name a few. We also had to complete weekly worksheets separately and then we'd come together to discuss our answers with the mentor couple that was assigned to us.
Ironically, Steve and I were paired with a former college football teammate from Augsburg. He and his wife would be our mentor couple. It was crazy to see his past come full circle with having his former teammate and his spouse share their marriage wisdom with us.
It felt a little awkward at first disclosing so much information to our mentor couple, but getting married is a huge decision. You have to be willing to talk about the things that are tough and address your differences head-on to give your marriage a solid foundation for all the challenges to come. You don't want to leave any stone unturned and later be heartbroken because you avoided talking about the hard things. You can't build a God-honoring marriage on sinking sand.
We were told that this series would help us dive into many aspects of marriage that we may or may not have talked about as a couple and by the end of the series we'll either be stronger as a couple, or you may not decide to go forth with your marriage.
That was no joke. The leaders had shared that there were in fact former attendees that upon completing pre-marriage counseling decided to forego getting married. Yikes!
That wasn't going to happen with us. We wanted to have the best marriage possible and we were going to do whatever we could to make it the best it could be.
This adventure was just getting started…