It had been about three months since we told my parents about JT and today they'd meet him in person.
It was crazy to think how much of a part of my life this little guy was; yet my parents had  never witnessed it.
I had taken on the role of being a mom when JT was with Steve and I. By no means was I trying to replace his biological mother, but I was going to do my best to love and care for him, like any good mom would.
This sweetheart really challenged our relationship, not because he was difficult, but because we really had to work together when he was in our care. We had to communicate, coordinate, and operate in a tag team fashion. When one of us was playing with him, the other one would be preparing his food. While one of us was changing his diapers, the other one could take a minute to rest.
Steve was so playful with JT and I could see how much they loved each other. He got a kick out of making him laugh doing the silliest things.
Now changing dirty diapers was a different story. Steve's stomach couldn't handle the mess, so I would voluntarily change his diapers. Steve and I complimented each other in our child rearing.
It was May 1, 2011 and my parents arrived at my house and we anxiously awaited the arrival of Steve and JT.
Steve had picked him up and drove to my house. I heard the upstairs door open. I went upstairs to help him carry the diaper bag as my parents anxious awaited seeing JT for the first time.
The three of us came downstairs. One look at JT and my mom got teary-eyed and my dad smiled and I knew that they were hooked!
His sweet baby cheeks, wild hair that couldn't be tamed and wore a grin identical to his daddy's…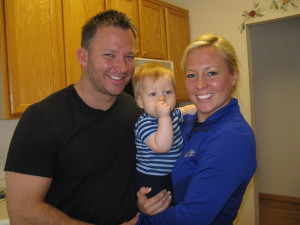 I was so proud in that moment. I was proud of Steve because he was such a great dad. He would do anything for JT and he worked hard to provide for his son. He loved him so much. He prayed for him, gave him love and attention, taught him things, gave him correction when needed. He took parenting seriously and wanted to instill in him strong Christian values. We prayed before our meals as a family and before feeding JT. He would eventually understand what praying was all about.
My heart was beaming with joy. Not only did I love Steve, but I loved JT. To think that there was a time when I questioned if this life was really what God had planned for me…fast-forward and there we were. My boys and I spending time with my parents, JT's potential future grand parents!
Steve and I played with JT and shared with my parents what he was like, what he likes to do, his latest achievements in baby world.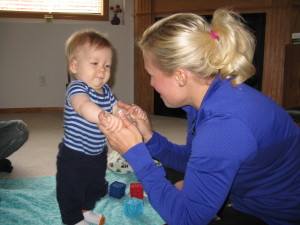 My parents took turns holding him and playing with him. JT was checking them out…who are these people?
We had an amazing day as a family that day. JT even fell asleep on my dad's lap.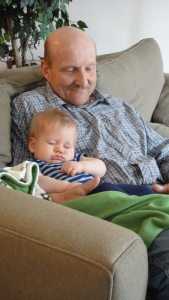 This day couldn't have been any better. I went to bed that night with happy heart that was overflowing with love. God had blown my mind.
Have you had moments in your life, that from the surface didn't make any sense, but you later realized that what was planned for your life was incredible?
---
Isaiah 55:8 says: "For my thoughts are not your thoughts, neither are your ways my ways," declares the LORD.
---
My challenge to you today is to reflect on the perceived rough patches of your life. Perhaps what frustrates or pains you right now could be a blessing that has yet to be discovered.
After all, His ways are not our ways, and your Father knows best.