It was May 6, 2011 and it was a sunny day. Both Steve and I worked and then I went over to his townhome after work.
I looked forward to days like today because we'd get to spend time with JT. My sister Mel would also be coming over today. Steve, Mel and I spent a lot of time together, and since he was dating me, my sister was part of the package deal.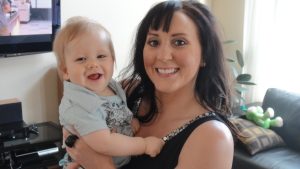 Mel is a speech language pathologist and she works with 3 and 4 year olds. Any day that Steve and I would have time with JT, Mel was automatically invited. JT loved when she was there. Mel has a gift with kids. Not only did she play with JT, but she'd teach him at the same time.
Steve and Mel had several nicknames for each other. Steve called her doctor, because her initials were MD, but that wasn't even the best one.
When I was training for a competition Steve was on a similar diet regime. He was doing the same amount of carbs I was on any given day. My sister was my roommate so she knew that this particular day was a zero carbohydrate day for me, which meant no complex carbs.
Mel had just arrived at Life Time to workout and saw Steve sitting in the Life Café She went into the café to say hi and he was eating eggs and had a stack of toast on his plate.
"What are you doing? You're not supposed to be having toast!" giving him a "gentle" reminder as if he forgot. "You're on a zero carb day!"
"Don't tell your sister," he said with a smirk.
Of course my sister didn't keep that from me. When she got home she told me all about it and Steve knew that she would.
The next time I was at Steve's house, we invited Mel over. She walked in the door and greeted him "Hi toast."
"What's up Judas?" he joked. She had busted him for eating toast and Mel had narked on him for not following our diet. Those two nicknames stuck from that moment on. Mel wouldn't let Steve forget that he got caught, nor would he let her forget she was a nark.
There was so much joy when all of us were together. Our time together was always lighthearted and we were either laughing with each other or at each other.
Today Steve, JT, Mel and I went on a walk. I loved going on walks with Steve. He worked very hard at his job and it could be very stressful, so walking was a great way to spend quality time together and he could decompress after his day. Of course we loved it also because we could take JT to the park and get in more exercise.
We walked up to the park and Steve took JT out of the stroller. He couldn't walk yet so Steve brought him over to the swings and put him in one.
I loved playing with JT, but I also loved to watch the two of them together. I couldn't help but fall more in love with Steve every time I got to witness him in daddy mode. JT filled Steve up with so much love. He was such a proud dad and he talked to JT so tenderly even though JT couldn't respond in complete sentences (obviously). It was still as JT knew what his daddy was saying to him. He hung on every word and action of his daddy. He showered him with kisses and told JT that he loved him.
The giggles were contagious. JT squealed with delight shoving his hands in his mouth as Steve pushed him in the swing.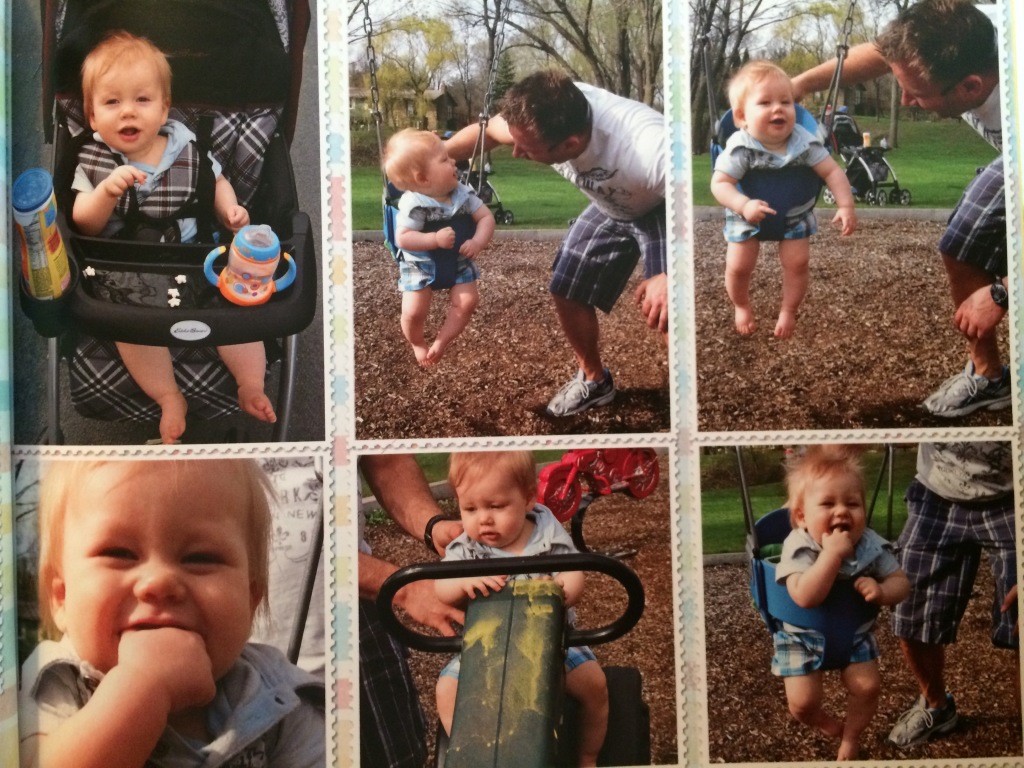 I found myself reflecting in that moment, as I often did when the three of us were together. I thanked God for blessing me with my boys. I was thankful that he humbled me when I thought there could be no way this life could be right for me.
There I was, blessed to have this sweet baby in my life and his daddy.
I couldn't believe how right Steve was for me. I had dated guys before who I thought they were right for me, and then things changed. I either ended up being broken hearted or realized they weren't the one for me.
Steve and I shared the same passions and values. He understood my stubborn and quiet side, or maybe he just learned how to deal with it. I loved how he was so selfless in everything he did. Whether it was at work, a random stranger, friends or family, he would do whatever he could to help any one who needed it. I couldn't help but love his giving heart. He was my biggest cheerleader. He never set limitations on what he thought I could do but supported me in my big ideas and dreams.
For the first time I had felt like I was with someone who appreciated me, all of me. He didn't try to change me or forced me to be someone I wasn't. Simply by being Steve Toms, he inspired and helped me to be the "best me." I loved this man and I had no doubt that he felt the same way about me because he told me every day.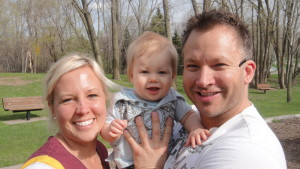 The person you're with and the person you choose to spend your life with should make you a better you. They shouldn't detract from who you are or cause you to be less than the person God designed you to be. God didn't intricately design you so you could pretend to be someone else. God already knows your potential and we need to wake up and realize how amazing He thinks we are.
How Steve made me feel reminds me of one of my favorite motivational movie speeches by Coach Carter, in the movie Coach Carter:
---
"Our deepest fear is not that we are inadequate. Our deepest fear is that we are powerful beyond measure. It is our light, not our darkness, that most frightens us. Your playing small does not serve the world. There is nothing enlightened about shrinking so that other people won't feel insecure around you. We are all meant to shine as children do. It's not just in some of us; it is in everyone. And as we let our own lights shine, we unconsciously give other people permission to do the same. As we are liberated from our own fear, our presence automatically liberates others."
---
My challenge to you today is for you to get out of your box and let your light shine! Stop downplaying your God-given gifts and talents. The world needs you to be you. You are ONE OF A KIND.
It had been about three months since we told my parents about JT and today they'd meet him in person.
It was crazy to think how much of a part of my life this little guy was; yet my parents had  never witnessed it.
I had taken on the role of being a mom when JT was with Steve and I. By no means was I trying to replace his biological mother, but I was going to do my best to love and care for him, like any good mom would.
This sweetheart really challenged our relationship, not because he was difficult, but because we really had to work together when he was in our care. We had to communicate, coordinate, and operate in a tag team fashion. When one of us was playing with him, the other one would be preparing his food. While one of us was changing his diapers, the other one could take a minute to rest.
Steve was so playful with JT and I could see how much they loved each other. He got a kick out of making him laugh doing the silliest things.
Now changing dirty diapers was a different story. Steve's stomach couldn't handle the mess, so I would voluntarily change his diapers. Steve and I complimented each other in our child rearing.
It was May 1, 2011 and my parents arrived at my house and we anxiously awaited the arrival of Steve and JT.
Steve had picked him up and drove to my house. I heard the upstairs door open. I went upstairs to help him carry the diaper bag as my parents anxious awaited seeing JT for the first time.
The three of us came downstairs. One look at JT and my mom got teary-eyed and my dad smiled and I knew that they were hooked!
His sweet baby cheeks, wild hair that couldn't be tamed and wore a grin identical to his daddy's…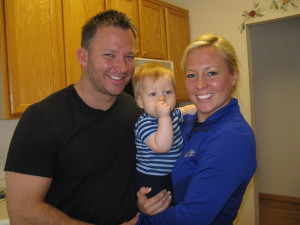 I was so proud in that moment. I was proud of Steve because he was such a great dad. He would do anything for JT and he worked hard to provide for his son. He loved him so much. He prayed for him, gave him love and attention, taught him things, gave him correction when needed. He took parenting seriously and wanted to instill in him strong Christian values. We prayed before our meals as a family and before feeding JT. He would eventually understand what praying was all about.
My heart was beaming with joy. Not only did I love Steve, but I loved JT. To think that there was a time when I questioned if this life was really what God had planned for me…fast-forward and there we were. My boys and I spending time with my parents, JT's potential future grand parents!
Steve and I played with JT and shared with my parents what he was like, what he likes to do, his latest achievements in baby world.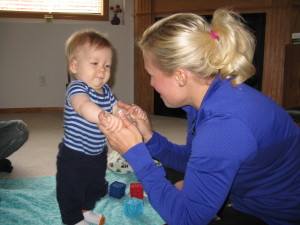 My parents took turns holding him and playing with him. JT was checking them out…who are these people?
We had an amazing day as a family that day. JT even fell asleep on my dad's lap.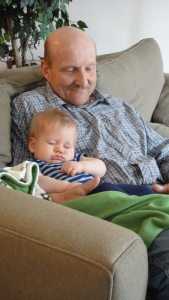 This day couldn't have been any better. I went to bed that night with happy heart that was overflowing with love. God had blown my mind.
Have you had moments in your life, that from the surface didn't make any sense, but you later realized that what was planned for your life was incredible?
---
Isaiah 55:8 says: "For my thoughts are not your thoughts, neither are your ways my ways," declares the LORD.
---
My challenge to you today is to reflect on the perceived rough patches of your life. Perhaps what frustrates or pains you right now could be a blessing that has yet to be discovered.
After all, His ways are not our ways, and your Father knows best.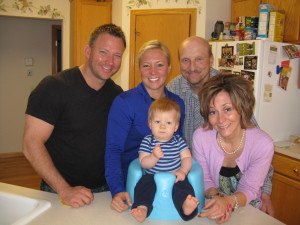 I waited for hours, wondering when I'd hear from Steve.  Time, ticking by ever so slowly as each minute painfully dragged on.
My mind wouldn't rest. I imagined what the whole scene would be like. The two of them in the delivery room, what sort of exchange would they have? Would he hold her hand and encourage her just as he did me—not in delivery of course.  How did they even interact anyway? I mean, it has to be such an awkward experience to figure out how to act with the woman who was giving birth to your child when you're in love with someone else, or at least I think it would be.
However they interacted, I don't know. I just know that if I kept playing out every scenario any longer I'd go crazy.
The situation was challenging enough for me, but there was another aspect that was difficult for me too.
I was the woman Steve was in love with, although I hadn't told him I loved him, I cared for him deeply. It was so hard to not be part of the biggest events of his life or to even be there in that moment supporting him.  Obviously I wouldn't be, but still. When you're in a relationship you're supposed to love and support each other through everything.
Thankfully he had great friends that were there when baby JT was born.  One of his friends Justine recalled the day…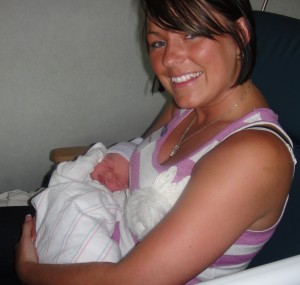 Jado and I went to the hospital together that day. She was in labor when we got there and I vividly remember Steve stepping out of the delivery room with tears in his eyes that his son was born! It was one of my favorite days! We went back later that day to see baby JT.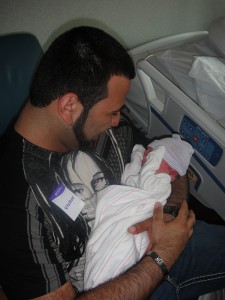 He was here. This sweet baby boy was here. I was happy for Steve because I knew his heart was full of the greatest joy he'd ever known. All the fear, worry and anxiety was silenced by the birth of his son. God had guided him up to this point, surely Steve knew He wouldn't stop now.
The birth of JT pushed Steve to grown in many ways. As a man, in his faith, and now as a father. He was committed to doing everything he could to love this little dude and to help him be the best he could be by training him up in the ways of the Lord so he would be who God designed him to be.
---
Train up a child in the way he should go, and when he is old he will not turn from it.  Proverbs 22:6
---
When we saw each other for the first time, I felt bipolar in my emotions. I could see the joy he had in being a father to his sweet miracle displayed all across his face. I was trying my best not to show my hurt by building him up, asking him questions to show I cared, telling him how happy I was for him and again affirming him that he was going to be such an amazing dad.
What he once feared was now something he embraced and he knew JT was a beautiful blessing from God.
This sweet baby boy would change his life…forever.