It wasn't long after our first few dates that Steve bought me my own pair of pink Title boxing gloves. I still wasn't quite sure what to think of him yet.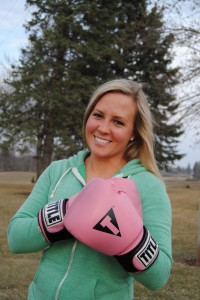 My initial reaction was, great, now I feel obligated to go to his class…but it didn't stop there. He also bought my sister a pair too. We were basically a package deal. To get to me, you gotta go through my sister and vice versa. Way to reel her in with a pair of gloves!
It actually ended up being a great thing. Mel and I continued to go to Steve's boxing classes and I got to know him better too.
Steve and I gradually spent more time together. Some times we'd cook together, work out, go on walks, go to sporting events, or watch UFC fights (Ultimate Fighting Championship).
The more time I spent with Steve, the more I learned about him. I learned he was a very connected guy. He was a smart aleck always prepared with a one-liner or a witty comeback. He didn't say things in a hurtful way but he had a way of zinging you with truth.
He was intelligent, not only on a general knowledge level, but in his training. He's the experienced trainer who could take you through a series of movements (exercise assessments) and could tell you exactly what you needed to do to improve the functionality of your body or give you a plan to correct your dysfunction.  Steve loved helping people and having fun in the process.
He was a go-getter. If there was something he wanted, he'd work for it.
Well, apparently I was one of those things. We were working out at the gym and he introduced me to someone and said, "this my girlfriend, Ashley."
I smiled and shook that person's hand and just went with it in the moment, when inside I was dying, what was he thinking! Did I some how miss the conversation that we were "official" because I don't remember having that conversation?
After our workout I went home to my sister Melia, who was my roommate at the time and filled her in.
"He introduced me to someone as his girlfriend!"
Now Mel knows me very well. I am what you call a commitment phobe when it comes to relationships. It's really quite ridiculous actually.
"You can't just start calling someone your girlfriend without asking her about it."
We hemmed and hawed about the details of this situation and the positives and negatives of it. It eventually turned into me admitting,  "I have a boyfriend."
June 2010
It was a regular evening and Steve and I were hanging out after work. We had cooked dinner together and he suggested we go on a walk.
We laughed, joked and talked. Just enjoying the evening together.
"I brought you on this walk because there's something I want to tell you." When he prefaced this chat with that, of course I had a little bit of panic…he's going to tell me he loves me. What in the world am I going to do?
But that wasn't it.
He said "There has been something I've wanted to tell you for a long time. I didn't know where this relationship would go at first and I wanted to see how things developed before I told you."
"Okay…well you know you can tell me anything right?" I ensured.
"Yes, I know that." He paused as he gathered his thoughts.
"Ash, I'm going to be a dad."