The day of our wedding rehearsal was Thursday November 17, 2011, which also happened to be my parent's wedding anniversary!
My mom had come down earlier in the week to complete some last minute projects and to run errands for Steve and I. She picked up our programs, decorated our candy bar glassware, and ran supplies to Brackett's, our reception venue.
I couldn't believe in just one day, I'd be saying, "I do." There were so many random times throughout the week as I'd be counting down that I'd just stop and realized, I'm getting married this week.
We had the best wedding party. Seriously, top notch friends and they were good looking! We each had six friends stand for us. I chose my sister Melia, my best friends from back home—Jill, Carie and Michelle, my brother's girlfriend Lisa (soon to be fiancé) and mine and Steve's friend Tamara.
Steve's lineup included Lance, Edog, Cory, Chris, Terry, my brother Keaton as well as Dan, Rod, and Ben. Steve's best friend Stien was living in California at the time and his wife was expecting around the date of our wedding. Unfortunately he couldn't be the "best man" in person, he still holds that title. Lance stepped in for the day and fulfilled his role.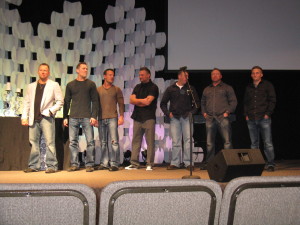 We also had a flower girl, Asia and of course JT was our little ring bearer.
Our rehearsal went smooth. Both Steve and I had musically talented friends. Carie practiced her solo "One Thousand Miles" by: Mark Schultz, which would be sung during the lighting of the unity candle. Terry sang "When I Say I Do" by: Matthew West.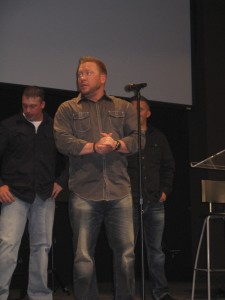 Typically I'm a steady person when it comes to emotions. I process things internally and it takes a lot to get me fired up. But then there's music. It literally takes three notes and something inside me just opens up. Whether it's the lyrics that touch my heart in it's deepest places, the melody or a memory associated with the song, my emotions flow uncontrollably with music.
Today was the first time we had heard the two songs we chose for our wedding live. When Steve told me Terry could sing, I had to ask him, "You mean he can really sing, or he likes singing around the house and in the shower?" I just had to double-check to make sure we were on the same page. I knew Carie could sing because I've heard her sing dozens of times growing up. Steve confirmed that Terry, could in fact, really sing.
Listening to the lyrics made me realize this was really happening. I mean obviously I knew that, but I mean I was really getting married. I felt so blessed.
Before I was a commitment phobe. If you were to ask my sister, she could probably give you a list of relationships that I've ran from in my life.
I remember a time when I was dating guy in high school and he lived about two hours away from me. He gave me a ring, a simple silver band and that was enough to send me running to the hills! I thought, oh my gosh, he thinks I'm going to marry him! Now this ring didn't come with a proposal nor was it presented to me on one knee, but my mind just ran with it. Needless to say we weren't together much longer after that. If you're reading this…sorry about that!
But I wasn't a runner any more. I had found the one that I could love, trust in, the one who challenged me to be better in every way and the one who made my heart overflow with love. I was ready to open up and share my authentic self with him. Steve always joked with me that I was the rock of Gibraltar, and that he finally cracked me and got me to open up. All I could do is smile at him because I knew he was right. I was so thankful to have found Steve. I had waited a long time for a husband and the journey we've had together up until this point was crazy.
We rehearsed that day, one groomsman short. Edog was flying in from California and he missed his flight. Of course he got an earful when he showed up at my house for the groom's dinner. Pretty boy Hollywood was late; Steve wouldn't let him hear the end of it.
We had a great time sharing stories that night. I learned more about Steve from his guy friends than I'd known before.
We all said goodnight and it was time for bed.
By this time tomorrow, I'd be Mrs. Steve Toms.